How to download Tiktok videos without watermark, logo
SaveTik.co is a Tiktok video downloader without watermark, logo. Support download Tiktok, Douyin videos in .mp3, .mp4 format on all devices (PC, Mac, Android, iOS).
SaveTik allows you to download Tiktok mp3, download mp3 music from Tiktok, convert Tiktok to mp3 quickly in a few simple steps without installing support software.
Step 1: Copy TikTok video link
- On PC / Mac & Phone (iOS, Android): Find the video to download and press the Share button then select Copy Link.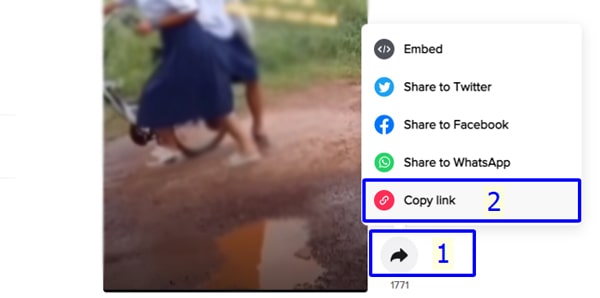 Step 2: Paste the copied video link into SaveTik.co
- Go to SaveTik.co website, paste the copied TikTok link in the search box and press the Download button.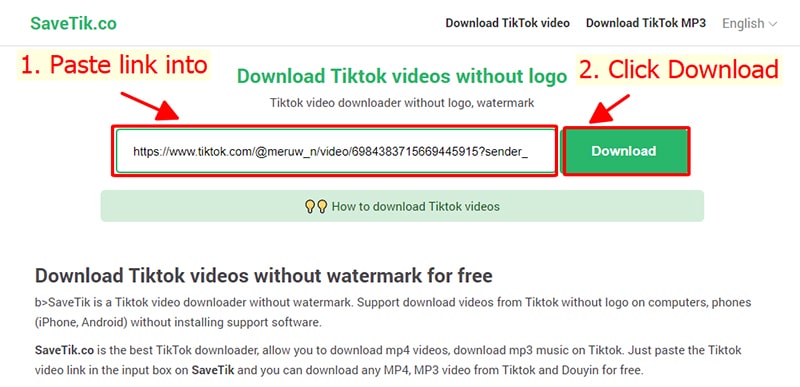 Step 3: Download TikTok video to your device
- Press the Download MP4 or Download MP3 button and wait a few seconds for the file to download to your device.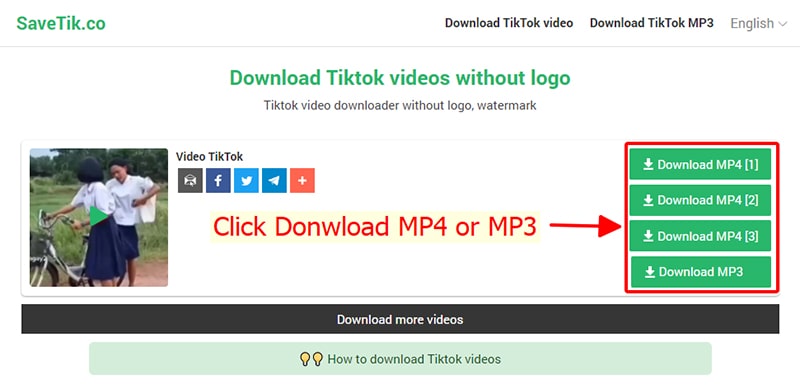 Download mp3 from Tiktok for free
SaveTik.co is a free Tiktok video downloader in .mp3, .mp4 format. You can download any video from Tiktok, download mp3 Tiktok without any feature limitation.
With SaveTik.co, you will easily download any video on Tiktok and Douyin without the Tiktok logo and User ID above and below the video like a normal download. We will continuously upgrade to bring you the best experience! Please share this tool with friends and family. Thank you!
Note: SaveTik is not a tool of TikTok, we have no relationship with TikTok and the company ByteDance. We only support Tiktok users to download our videos on Tiktok without watermark easily and quickly. Thank you!